The area in the Shire of Kalamunda known as Paulls Valley adjoins the Helena River on its southern side and is part of the Mundaring Weir Catchment Area.  Primarily bushland, the main access route to Paulls Valley is Mundaring Weir Road.
Attractions
Calamunnda Camel Farm
Calamunnda Camel Farm is a fantastic tourism operation which has been running for the last 20 years on 10 acres nestled in state forest in Paulls Valley (off Mundaring Weir Road). Operating with 10 to 15 working camels, cameleer Chris O'Hora and his staff, take pleasure in sharing their knowledge and experience of these unique animals in a tranquil bush setting.  Not only will visitors receive an educational experience in camels, they will also gain a better understanding of the Darling Scarp environment. Calamunnda Camel Farm offers camel rides for children, adult, singles, groups and families and also caters for riders with special needs. All their camel handlers are well experienced, and hold working with children permit (WWC).  They also offer sunset rides, picnic out at the forest, half day/full day treks, and are willing to offer more unique activities tailored for you.
Calamunnda Camel Farm is the epitome of an eco tourism venture, putting sustainability first.  The Farm is designed to have minimal environmental impact and has put in place management practices which guarantee their aims of – organic agriculture, recycling, composting, natural pest control and supporting a diverse bio-culture.  As part of their on-going strategy, a number of independent micro systems have been installed in the farm layout. Grassed and garden areas have been strategically placed to act as water flow barriers and bio-filters. Shelterbelts of trees and shrubs are growing to assist in the overall management and regeneration of this unique property and native flora and fauna have significantly benefited by this layout.
Activities include – observing camels working on site; short rides; extended camel-back treks through the forest; training in all areas of camel training and handling, camel riding, trekking, transport and husbandry; watching farm and native animals go about their daily activities; relaxing in the tranquil bush setting and enjoying a family picnic or barbecue; exploring the many forest trails surrounding the farm; and activities especially catered to school groups including eco tours, farm tours, bush craft and camel riding.
Facilities include – public access, a small shop and rest rooms, car parks, lawn and garden recreational areas, farm animal nursery, a camel ride yard and ramp and function / training rooms which are available for hire for both corporate and school events. The "Oasis Tea Room" located on the grounds offers unique home-made, traditional food and catering.
Calamunnda Camel Farm is open 9AM to 3PM Monday to Friday and 9AM to 5PM Saturday, Sunday and Public Holidays. Monday is trek day, other times and bookings by arrangement.
Phone: 08 9293 1156.
Kalamunda National Park
The 375-hectare Kalamunda National Park forms part of Paulls Valley.  Walking trails take you though forests timbered with marri, wandoo, jarrah and butter gum. Kalamunda National Park is also well known for its diversity of native plants and as an excellent place for bird watching.  In particular, the Park is a significant as a non-breeding season roost site and foraging base for Long-billed Black Cockatoos.  Other wildlife includes kangaroos, echidnas and bandicoots. The start of the Bibbulmun Track goes through the Kalamunda National Park.  Some facilities are available, though limited. The best time to visit the Park is late winter and spring when the wildflowers are at their best.
Beelu National Park
Formerly known as Mundaring National Park, Beelu National Park is situated to the west of Mundaring Weir Road in the Shires of Mundaring and Kalamunda. This beautiful 3000-hectare park includes the popular recreation sites of Fred Jacoby Park, South Ledge, North Ledge, Farrell Grove, The Dell, Gungin Gully, Pimelia Mycumbene and Grevillea Mycumbene.  The Park was renamed in 2008 as an acknowledgement of the traditional owners of the area. The word Beelu is derived from the Noongar word for river or stream. The Beelu people were the original peoples of the area whose district was bounded by the Helena, Swan and Canning Rivers.  The Park contains a variety of native flora including Jarrah, Marri, Zamia, Bull Banksia, Sheoak and Grass Tree.  In terms of facilities, Beelu National Park has toilets, wood barbecues, picnic tables and a good selection of hiking and mountain bike trails. An information centre, the Perth Hills National Parks Centre (Allen Road, Mundaring – just off the Mundaring Weir Road) is located within the park and is open between 10.00am and 4.00pm to offer advice and refreshments to visitors. Two campsites are available to use within the park.
History
In 1829 Ensign Robert Dale was the first European ever to enter this area. He encountered Aboriginal people along the way, members, we now know, of the Beeloo people whose leader at that time was a young man, Munday.
In 1886, large amounts of land were leased by John Henry King and his wife Hester who came with their four younger children to live in the timber slab house they built. They developed 10 acres of the best land near a creek and called it Garden Hill, planting fruit trees and vegetables.  J.H.King is also listed as a saw-miller and grazed cattle on an additional 4000 acre lease. Although there were limited roads, John Henry King managed to be active in the community as a member of the Darling Range Vine and Fruit Growers Association and the Darling Range Roads Board.
In the years 1900 to 1913, there were five saw-mills documented in this area, belonging to Port, Honey and Co. (near The Dell), H.W. Oma, W.Wright ( in Fern Road, making Jarrah packing cases), Fred Elson and J. Patterson (in the Farrell Grove area).
By 1929, the Kings had left the Paull's Valley area and sold Garden Hill to Albert (Bert) Paull who renovated the old cottage prior to hiring August Johnson to build a new home of asbestos and timber. Paull specialised in growing magnificent rhubarb ideal for the area with its fine clay soils, plentiful water from the creek and supplemented by lots of horse manure from wherever he could acquire it. Paull also bought 10 acres from Fred Elson and also gained another 15 acres linking the two properties. Paull, a widower with four young daughters, lived on his property with a housekeeper (Miss Elliott) and a workman (Peter Andersen). Later Bert Paull specialised in growing daffodils and gladioli, selling and breeding them to supply bulbs to many people.
An Aboriginal family (Ted Nannup, his wife and two children) lived nearby. Ted worked as a timber-cutter. In 1933, when a devastating bushfire headed towards the Paull home, it was Ted Nannup's quick actions that saved the home.
In 1947, one of Bert Paull's daughters, married to Bert Doubikin, purchased the Garden Hill from Bert who stayed on with them in his own accommodation, enjoying his garden and his grandchildren.
It was not until 1973 that the area was officially gazetted with the name Paulls Valley.
(Courtesy of the Kalamunda Library's Local History Collection and researcher, Carol Mansfield).
[Historical images for community profiles are contributed by The Kalamunda Historical Society]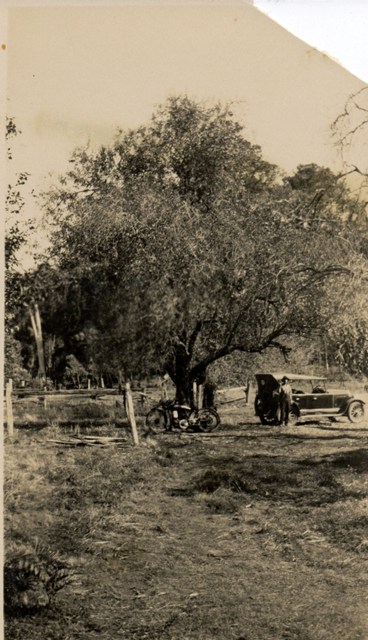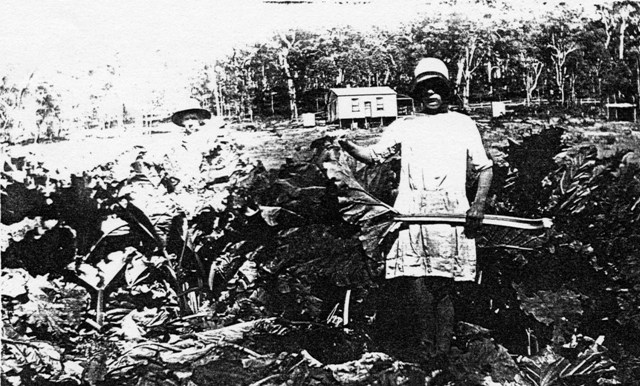 Paulls Valley rhubarb cropping 1930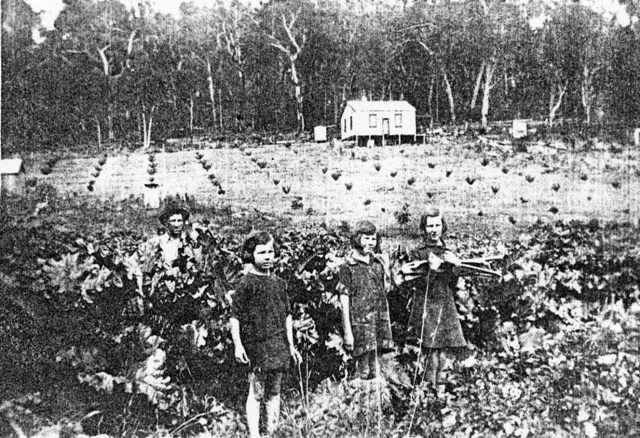 The cottage at Garden Hill 1930