Have you ever wondered about the garden on the corner of Lillian and Hawtin Roads in Maida Vale?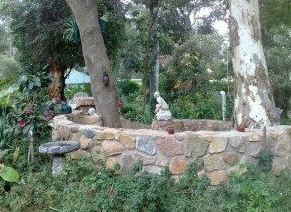 Well, wonder no more!  When Tom Hogg moved to Number 3 Lillian Road, Maida Vale in 2000, the half hectare property was a 'jungle mess'.  With no landscaping background, the self taught stone mason transformed the block into a multi-award winning garden and amphitheatre called 'Romancing the Stone' and 'Little Covent Garden' respectively.
The theme of the garden is romance, the sound of running water (provided by the winter creek) and fragrance.  The garden is also littered with statues, curios and hand painted signs displaying positive adages that reflect Tom's community minded approach in its creation. When asked why he built the garden, Tom simply says he had the idea and had to see it through.  He also says that there is something rewarding in achieving an end result and being able to share that with other people – and share that he certainly has!
Little Covent Garden (the amphitheatre) seats 200 people and is free to anyone to use for performances.  For the past three years, The Amanda Young Foundation has held an annual concert to raise funds, as have the Princess Margaret Hospital Cancer Fund and The Royal Flying Doctors.  Every year, in early October, Tom and his partner Jan hold an Open Day with the proceeds going to charity. Over the past 10 years Romancing the Stone and Little Covent Garden has raised over $100 000 for charity.